The real answer to grease trap problems that cuts costs…
Monday, May 20th, 2019 Latest news by admin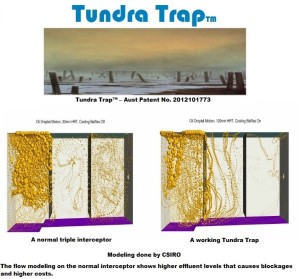 After 30 years of providing our clients waste treatment solutions.
Here's what we have learnt:
Most grease traps don't work. They smell, they block up and block pipes and sewer systems.
Every site is unique and has its own unique problems.
That grease trap pumping is regulated on what is not trapped.
Grease trap pumping is expensive, and brings problems.
That we successfully provide solutions, cost effectively. That are still operational for almost 30 years.
Tundra Trap is a new solution as proved by CSIRO.
Here's what one of our proto-type sites say:
"Our company has been using products and services from Envirofriendly for over 5 years. Neil Christie and his team have made fantastic contributions to help address several waste water and kitchen waste issues at our 300 bed campsite. Our commercial kitchen serves over 1000 hot meals each day and despite observation of industry best practice, we were suffering from kitchen generated fats, oils and grease (FOG) interfering with our sewage treatment plant (STP). The provider of our STP continually blamed FOG for the horrendous STP smell and its failure to reach Environmental output parameters. We had already installed a new 4200 grease trap sold by the STP company but this was totally ineffective at trapping the FOG before it entered the STP. We were in a downward spiral of spending thousands of dollars each month on sewage pump outs, grease trap pump outs, STP clean outs and even totally recommissioning of our STP. All of this was to no avail as the FOG evets continued to impact the operations of our STP time and again.
This is where Neil Christie's knowledge and experience came into its own. He asked us how our new STP was running and we disclosed all of our issues to him. He assured us that we were experiencing an industry wide issue that his business had created a simple solution to. Envirofriendly's  Tundra Trap system and biological dosing program have been the only effect interventions in solving our FOG issues and allowing our STP to receive influent without FOG contamination. I cannot recommend Neil Christie and his Envirofriendly team strongly enough to any business or any level of government that is considering engaging their services."
QCCC – Maintenance Supervisor
Here's what Tundra Trap does:
Traps waste in the grease trap.
Reduces waste effluent running to council sewer.
Reduces waste removal costs.
Reduces smells and blocked pipes.
Minimizes costs.
We don't sell a product as a solution for your problems. We design a solution program to solve your problems and work with your site to keep it efficient and effective for 30 years plus…
Here are the results from another site.
Samples taken at 4 weeks from last evacuation:
Total Suspended Solids = 510mg/l
Total Oils and Grease = 1000mg/l
Samples taken at 9 weeks from last evacuation:
Total Suspended Solids = 360mg/l
Total Oils and Grease = 280mg/l
Contact us now for more information about Tundra Trap and how Envirofriendly can help your business.
Envirofriendly Pty Ltd
Ph: (07) 5546 9322
Fax: (07) 55469283