Wednesday, September 3rd, 2014 Latest news by admin

In 2002, A tropical island resort on the Great Barrier Reef approached us as they had been having issues with their Sewerage Treatment Plant…
Due to the location of the resort it had strict effluent criteria's it was required to meet under its licence agreement. Envirofriendly put a proposal together for our tailored Preventative Maintenance Program. We choose the kitchen as the starting point to pre-treat the waste coming from the kitchen as the Sewerage Treatment Plant wouldn't have the right bacteria in it naturally to break down this type of waste effectively. Our program was designed to treat the hydraulic trade waste lines from the main kitchen preventing smells and blockages, as well as speeding up the break down of waste in the grease traps which also allowed for us to reduce the frequency of the grease trap evacuations. Additionally we supplied product to the cleaners for treating the ensuites to help create the right biological balance in the Sewerage Treatment Plant to speed up the break down of waste creating cleaner effluent.
Over the next few months, the effluent levels in the treatment plant improved, however the Engineer was noticing some odours from under the main kitchen. On further investigation by our staff we found that the kitchen staff had removed the drain cover from the floor drains in the kitchen that they been stuffing food waste into. As a result the drain blocked up which the staff tried to clear using the end of a mop handle. Envirofriendly don't recommend this method as they punched a hole in the bottom on the S bend causing further waste to fall to the ground under the building to decay and extra costs of having pipework repaired.
One of the keys to our programs is to alert management to any bad practices that may cause damage to infrastructure or just be bad for the environment for them to be addressed and things improved.
All of our programs are backed up by our 25 years of history in the industry and regular ongoing assessments with reports supplied to our clients as part of the program. Talk to Envirofriendly today about how our Preventative Maintenance Program can help you better manage your building and importantly reduce costs!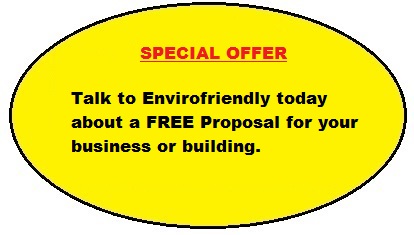 Contact us now for more information or your FREE PROPOSAL…